Using the Merit Badges System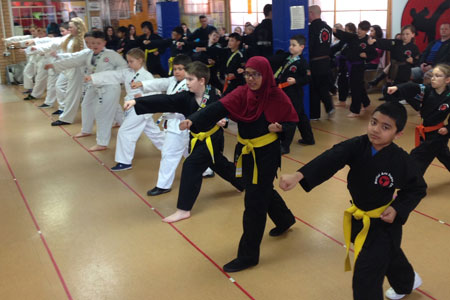 Fill in the badge chart either with the suggestions from the suggestions sheet with your own requirements in the space under each badge. This then tells the students what they have to do to achieve their badges
Put the Achievement chart on display in a prominent position in your school for the students and parents to see, and explain to them how the program works, get them excited about achieving badges
Encourage them to choose various badges from the chart. You must display the chart, if they cannot SEE the badges they want to attempt, the program will not be as effective as it should be
The following systems for using the badges are suitable for small, medium and large schools, pick the system that best suits you
System One: Individual Technique
The student asks to take a certain badge (just after class) which they have picked from the achievement chart, an assistant instructor or S.W.A.T member tests them (at one side or end of the training hall, preferably near the parents) on that technique, if the technique is up to the required standard that you have set then the student is awarded the badge, with appropriate congratulations.
System Two: A Badge a Month
The badges can be awarded to the whole class once each week or month such as beginners kicking badge (badge no 10). For example one instructor had his whole school (250 students) practice for the side kick badge (badge no 12), each lesson during the month he covered some aspect of sidekick for just a short time, at the end of the month he checked out the sidekicks and there was an obvious improvement in all his students so all 250 received a sidekick badge, each student paid £1.50, that's £250 extra income for the instructor each month!
System Three: Tab Promotion
The badges can be awarded for tab promotion tests each month, instead of just a tab on the belt the student takes certain patches which you set the criteria for, once achieved the student is then eligible for belt promotion on the third month. (ideal for little dragon, tiny tigers & little ninjas classes).
System Four: Group Awards
You can award badges to students in certain groups to give them recognition.
System Five: The Rising Belt system
New students are awarded the 'white belt badge' (No 82), this is sewn onto the bottom of the uniform sleeve. They can then take basics badges such as reverse punch, front kick etc. - these are sewn around the sleeve in line with the belt badge to show what they achieved 'at white belt level'.
System Six: Badge Night
Hold a "badge night" once or twice per month (in between tip tests) as an extra special event or service for your students. The students are allowed to take any two badges during this night, make a big deal of awarding the badges with the students coming to the front of the class to receive their badges with everyone applauding.
Some schools have found the badges a good way of giving a sense of achievement to younger students who are not yet ready to grade, especially the 3 - 8 year section. By practicing hard for a 'BASICS' badge they become skilled enough to take their gradings. Others award badges in between gradings to maintain a child's interest.
We hold a 'mini' competition in between the gradings where we split the class into two large teams, the winning team all receive a free sparring badge (no 34) this really motivates them and keeps interest (and attendance) up in between the grades.
How Much Can I Make Using Merit Badges?
We hope you can see the obvious advantages of using Merit Badges for student retention and recognition. These badges should not be seen as being a cost to the school but rather as an alternative revenue. Try our calculator below:
Request your
free info kit